On April 12, 1956 Tommy Atkinson and his wife deeded over the property at the end of Broadway West of the power line to the Estero River Heights Corporation and Estero River Heights was created. This is the oldest incorporated community in Estero.
<![if !vml]>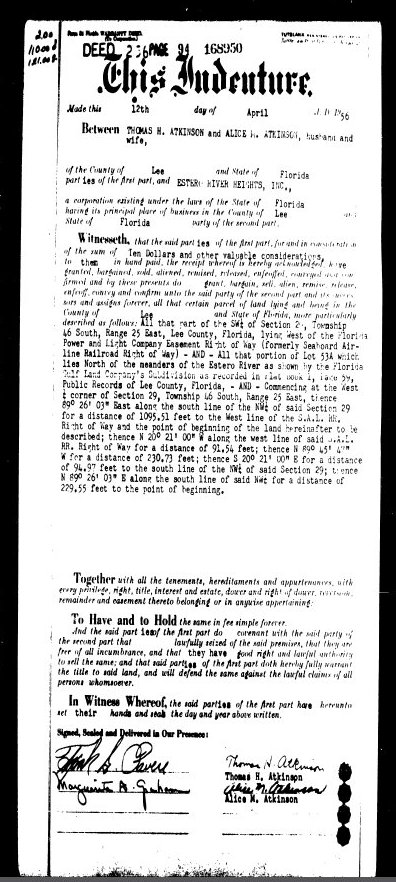 <![endif]>
<![if !vml]>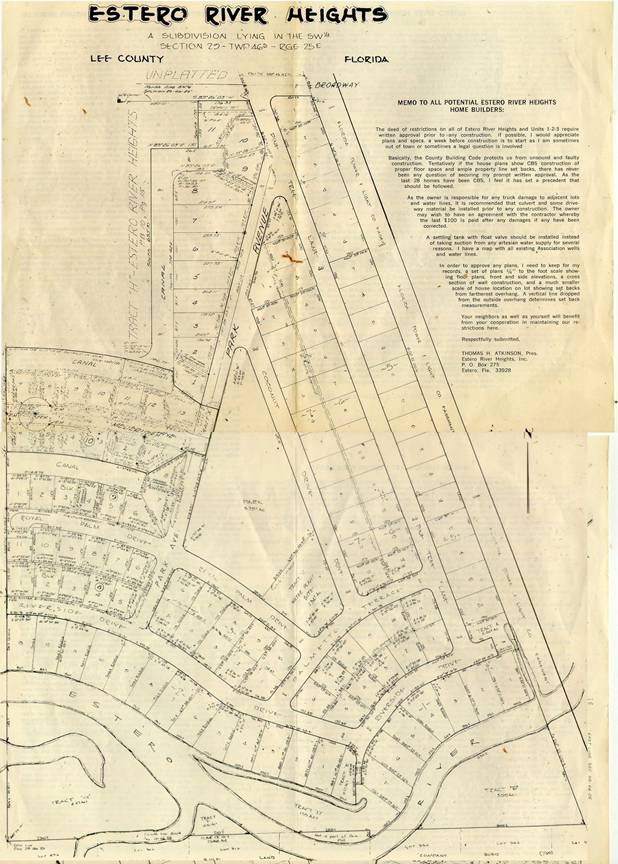 <![endif]>
<![if !vml]>
<![endif]>
By 1957 there was significant progress. The boat basin at Pine Tree and Riverside (Tract A) and the Basin where the ramp is (Basin B) were dredged.
<![if !vml]>
<![endif]>
<![if !vml]>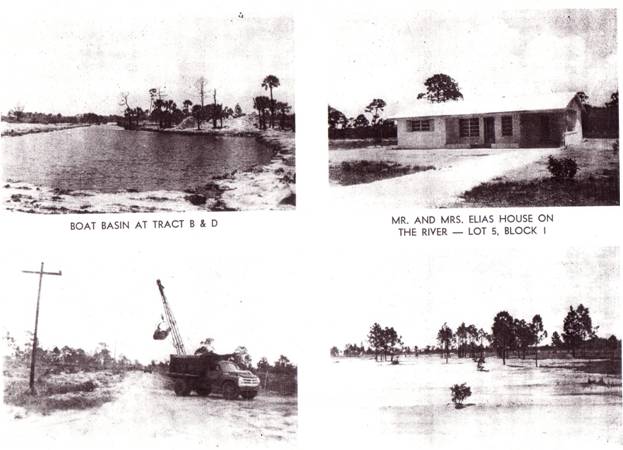 <![endif]>
<![if !vml]>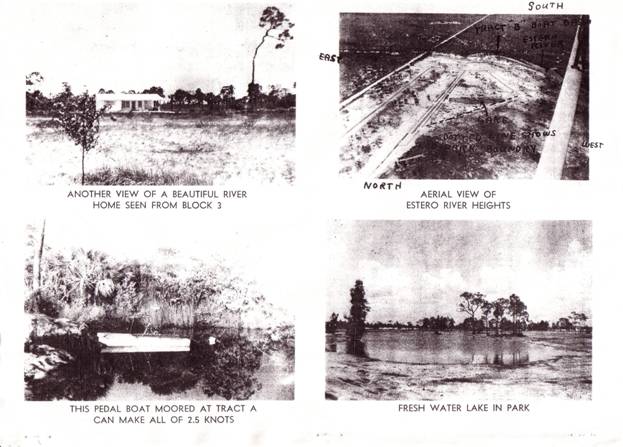 <![endif]>
The first home is under Curt Gunder's house at 4739 Riverside 
The second house is buried inside Jerry's new bigger house at 20821 Pine Tree, . 
The original set of deed restrictions, now expired were filed in Lee County
In 1958 the residents of Estero River Heights, Tommy Atkinson paying for unsold lots and contributions from other residents along Broadway paid to have it paved.
This is the 1958 aerial
<![if !vml]>
<![endif]>
<![if !vml]>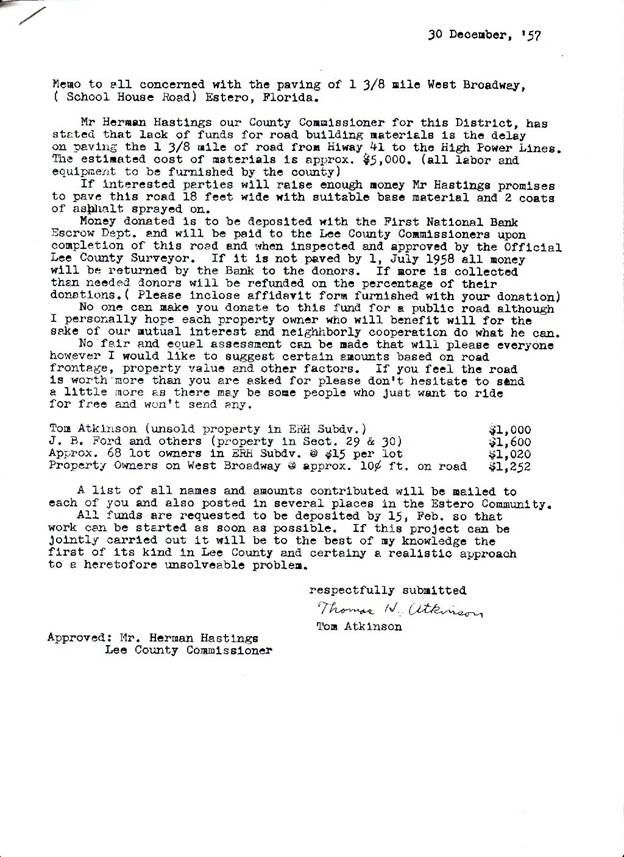 <![endif]>
<![if !vml]>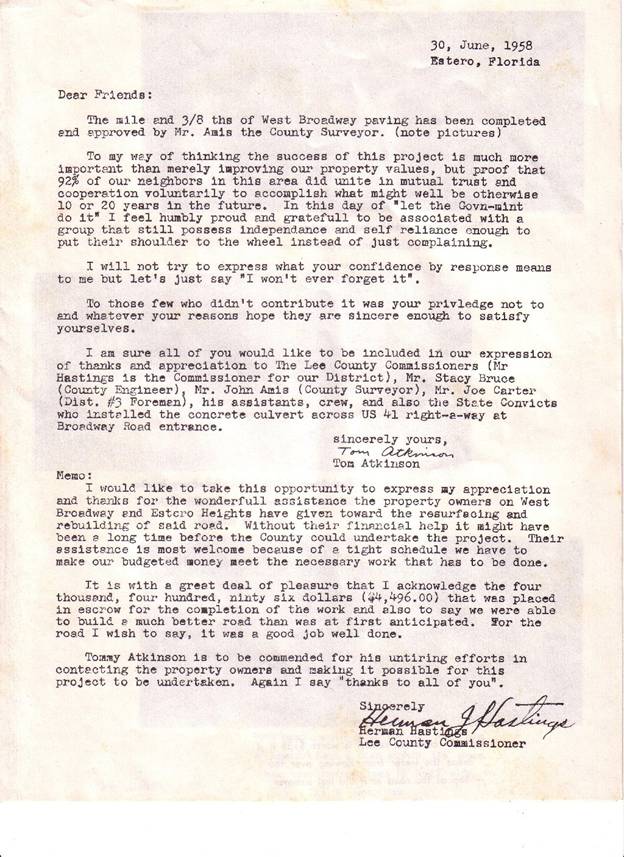 <![endif]>
<![if !vml]>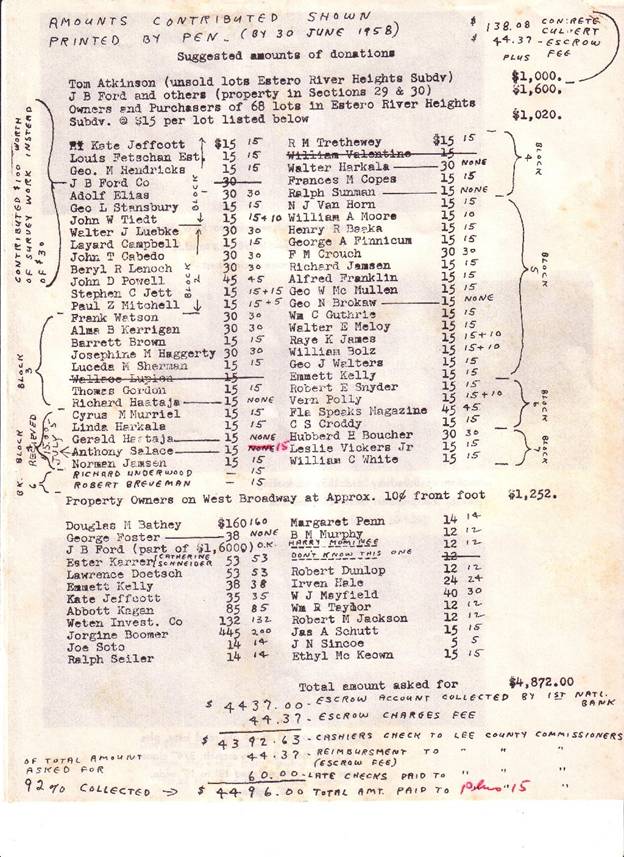 <![endif]>
In 1961 Tommy Atkinson deeded over the park, Tract A and B to the association.
<![if !vml]>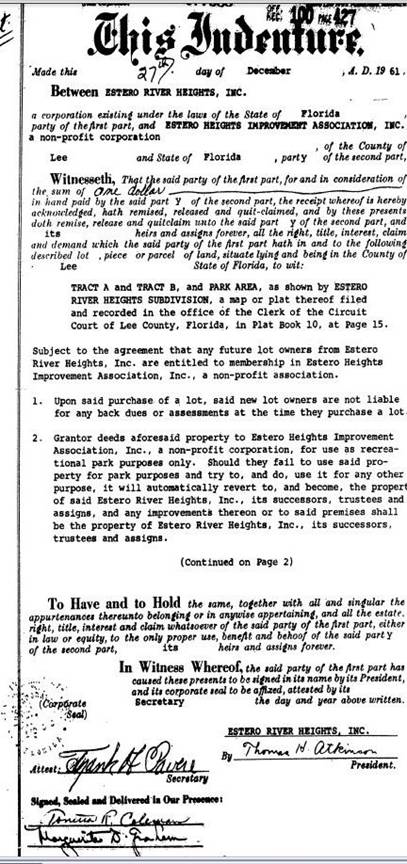 <![endif]>
<![if !vml]>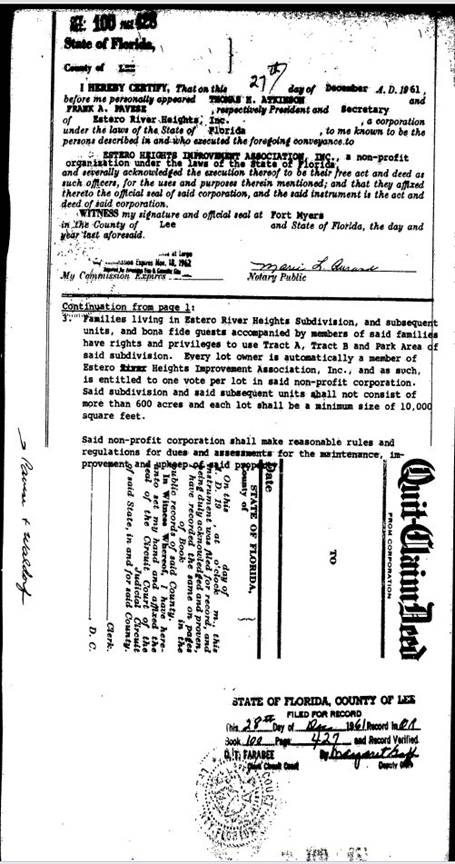 <![endif]>
In 1962 door to door mail delivery was established.
The community progressed under the leadership of Tommy Atkinson and our board.. By 1963 there was a front entrance sign, Lee County put in the catch basin and drain pipe in Tract A. We had street signs and there was a drain installed in Tract B.
Also there was a re dredging of Basin A and that was when the slip was cut in behind 20881 Pine Tree.
In 1969 Estero River Heights worked with lawyers and blocked the zoning for a trailer park where Cranbrook is now. 
Dues in 1969 were $10 a year. There will still people not paying.
This is what Estero River Heights looked like in 1970
<![if !vml]>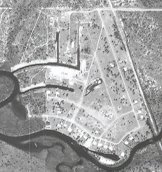 <![endif]>
In 1971 there were 119 lots with 113 owners, 31 homes either complete or under construction.
The president's report in 1972 (Charles Guthrie) shows things never change
Concerns brought to his attention.
1. We need more lights
2. I moved here to get away from lights shining in my window.
3. I like it because my dog is safe from city traffic.
4. All dogs should be on a leash at all times.
5. Trailers should not be allowed in view. It makes the neighborhood look junky.
6. Park areas should have trailer parking areas.
7. Centralized parking areas would invite vandals.
8. Campers should be allowed in driveways for a week for relatives.
9. There should be no camper parking, let them stay in a hotel.
10. Birdbaths should not be allowed, they breed mosquitoes.
11. Birdbaths are fine because they get emptied and cleaned so they don't breed mosquitoes.
12. Hi-Fis, radios etc should not be audible beyond the property line.
13. I like sharing music with my neighbors.
14. I prefer choosing my own music.
The minutes for the 1978 annual meeting were interesting. Among the normal grass mowing and boat ramp issues they had an action item about stray cows wandering around the neighborhood. That was also when the idea of a shelter on the park showed up although it was for a chickee hut at that time.
The charter was also amended at that meeting
<![if !vml]>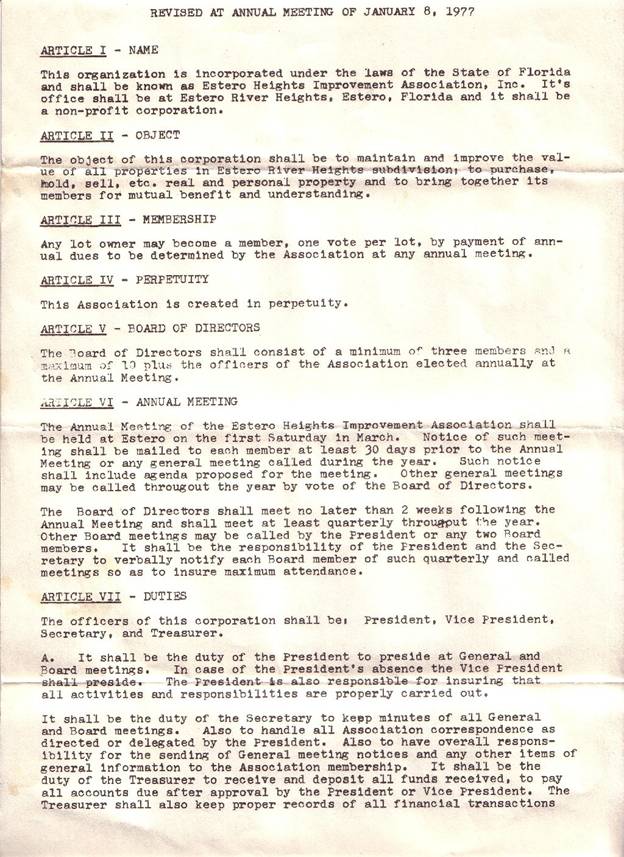 <![endif]>
<![if !vml]>
<![endif]>
<![if !vml]>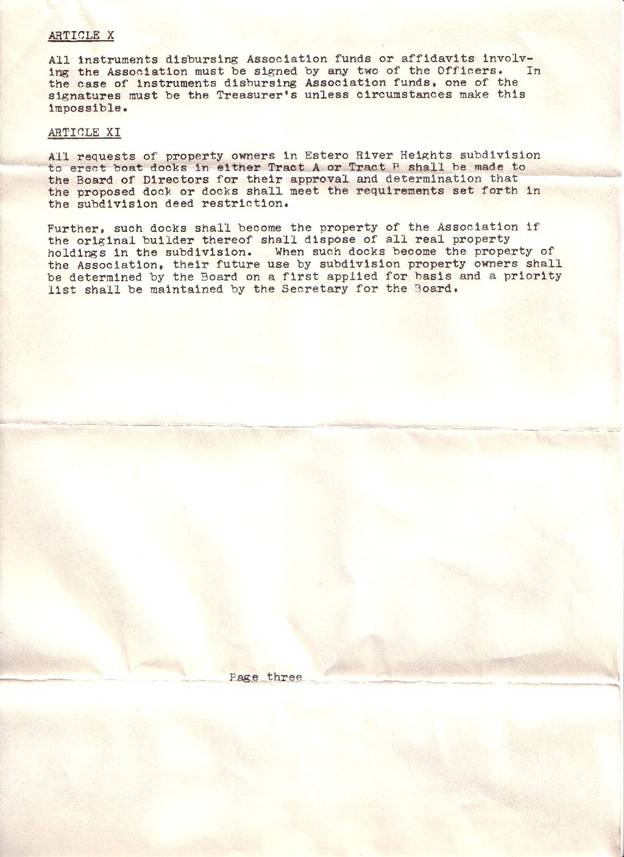 <![endif]>
At the 79 meeting it was agreed that we would pour the slab that became the pavilion.
In 1980, the last version of deed restrictions was passed.
They were already talking about strangers at the ramp in the 82 annual meeting..
This is Estero River Heights in 1980
<![if !vml]>
<![endif]>
In 1983 the ramp was replaced at a cost of $1300 by Nelson Construction. That was also when talks started about the sidewalk on Broadway.
In 1985 the chain and lock were added to the boat ramp.
In 1986 we went from Rural Route box number addresses to the standardized street numbering system. Park Avenue was changed to Park Place so it would be a unique street name.
In 1990 the ramp was repaired by adding bags of concrete at the drop off at the end by Mr. Vogelsonger and Mr. Owens
That was also when the lock and key system was implemented, replacing the combination lock.
In 1990 Lee County agreed Estego Court was a public road and now maintains it up to the ramp. We thank Ann Jump for waging that fight for us.